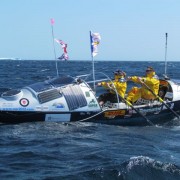 I don't doubt that Roz and I could have made it across the North Atlantic. When the two of us put our minds to something, there isn't much that will stop either one of us. But this time, the risks were simply too high. The responsibility we have to our families, friends, sponsors and supporters to ensure a successful outcome, left us with little choice. To make the decision not to row is hugely disappointing, but we were here to do something inspiring, not something stupid. Bojangles would have been no match for sharp, compacted, several-thousand-year-old ice.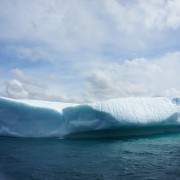 When we first arrived in St John's and went out on the water to see the icebergs, emotions were mixed. These masses rising out of the water were beautiful, inspiring, but at the same time harsh, potentially deadly.  It's not just the OAR team who have been surprised by the quantity of ice in the waters off Newfoundland this year. From local fishermen, to those working on the offshore oil rigs. Whilst we hope that this is an exceptional year, our recent research suggests that this could be a sign of things to come. Based on what we've seen out here, the OAR team will be bringing the message about global warming home to the UK.
This has been far from an an easy decision to make, especially in view of all the amazing support we have received from our many volunteers and friends. The number of people who have got involved with the OAR Project has been amazing, in particular everybody who has worked to make Bojangles the boat she is today.  Roz and I owe a huge debt of gratitude to all our supporters in the US, UK and Newfoundland.
Whilst we might not be able to row across the North Atlantic, the inland waterways section of the OAR will go ahead as planned. We hope that you will come and join us on the rivers and canals of the UK as we travel from Bristol to London, still flying the flag for the best of British!
Until next time,
Mos