Bojangles
Bojangles is the ocean rowing boat that will be used for the OAR Project. Designed and built by British ocean rowing expert, Mick Dawson, in 2006, she is revolutionary in terms of her design.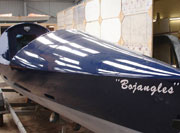 So what makes Bojangles different? It starts with the very material she's made from, a Carbon/Kevlar weave layup with a foam sandwich – making for a lightweight but exceptionally strong structure.
Steering failure has been an issue for ocean rowers in the past, but Bojangles is designed with a strong and resilient hydraulic rudder system, which worked extremely well on Bojangles' maiden voyage across the Pacific Ocean in 2009. The rudder system on Bojangles is also set up in such a way that a parachute anchor can be deployed from the stern, allowing forward progress even in rough seas.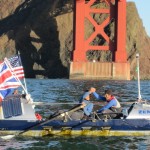 Knowing that capsizing is very real possibility, Bojangles carries 50kg of lead built into the bottom of her hull to help prevent turning over, but also to aid self-righting should the worst happen. Her rounded cabins reduce the turning effect of the waves on the boat too, further reducing the chance of capsizing. Despite horrendous weather during her Pacific crossing, Bojangles took it all in her stride and remained the right way up!
Although built for two rowers, Bojangles has three rowing positions. This means that the rowers can row to maximum effect whether rowing solo (as they would most of the time) or rowing together.
Since completing her epic 7000mile Pacific journey, Bojangles has been  on display at the San Francisco Maritime museum. From November 2011, Bojangles became a live working exhibit and has been through an extensive refit to get her ready for her next adventure. New solar panels, electrical systems and state of the art marine navigation equipment have been installed, as well as a number of other design improvements to the ventilation and water drainage systems based on lessons learned from her maiden voyage. Check out all the action!
Click here to learn more about the work carried out on Bojangles. Click here for more photos of the refit.
SPECIFICATION

Length                                  24 feet                        7.1 metres
Width                                     7 feet                         2.15 metres
Height                                    5.5ft                           1.7 metres
Weight                                   2,200lbs                     1 ton                                       (approx weight fully laden with all kit and equipment)
Carbon/Kevlar composite foam sandwich construction. Very light but incredibly strong.
Additional weight built into the hull and specially designed cabins reduce the chance of a capsize and increase the chance of self-righting.
Built in 12 volt battery. Solar panels provide the on board electricity, with sufficient power available to operate a sound system with on-deck speakers.
Comprehensive satellite communications packages allow the crew to send blogs, photos and video footage of their journey to supporters around the world.
Drinking water comes from a desalinator (water maker) that turns sea water into drinking water.
Food is stored in the fourteen watertight compartments on board.
The rowers require over 6,500 calories per day and will eat specially formulated expedition foods that just require hot water adding. High calories snacks will make up the rest of their menu.
Two rowers. One Bedroom. No shower. And the toilet…? Bucket and chuck it!