OAR Inspiring
Captivate your students with a real life ADVENTURE!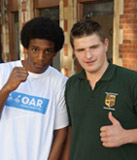 Highlighting that adventurers can be made, not just born, the OAR crew does not fit the stereotypes of a classic adventurer or explorer. Andrew 'Mos' Morris firmly believes that with the right preparation, hard work and determination, those who are prepared to take a step outside their comfort zone can achieve the most remarkable things. This is a message he is keen to pass on to future generations.
Ocean rowing expeditions lend themselves extremely well to a number of relevant classroom topics and we are encouraging schools to follow the OAR and use it as a tool to learning. Here are just a few OAR Inspiring ideas;
Great British Adventures & Adventurers
Heroes & Role Models of today
Goal setting
Physical, mental & emotional preparation for challenge
Problem solving on board
Determination & perseverance
Safety
Navigation
Communication & technology
Nutrition & hydration
The environment and ocean awareness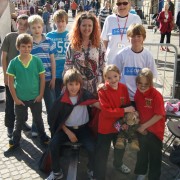 After the row, there may also be the opportunity for Andrew Morris to visit your school to talk about his experiences on the ocean and inspire students to take on their own challenges.
If you'd like to talk to us about how you could use the OAR in your classroom, or want get involved and follow Mos on their epic journey, then please contact Rachel Smith on rachel@oar2012.com for more details.
The OAR crew will show you how a dream can become an ambition, and then inspire you to believe that what you thought was out of your reach is attainable through perseverance, determination and self belief. Through this adventure, the themes of team work, creative problem solving, nurturing strengths and managing challenges emerge. The OAR is testament to what the human spirit can achieve. Our students were entranced and enthused at hearing the story.

Percy L. Abram PHD
Head of School, Gateway Elementary, Santa Cruz, California
Sign up for our OAR Inspiring newsletter here to receive more fun ideas of how you can bring the OAR adventure to life for your students.