Bristol to London July 2012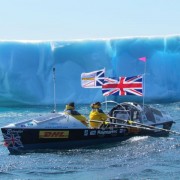 Many believe that to row an ocean is to conquer it. Those who have rowed one will tell you that's definitely not the case – the ocean merely allows you to pass.  Andrew 'Mos' Morris and Roz Savage were due to set out from St John's Newfoundland to row across the North Atlantic, home to the UK. Ocean rowing is not an easy sport whichever route you choose, but the North Atlantic is considered one of the toughest. On 20th May 2012, the OAR team came to the difficult decision to postpone their attempt on the North Atlantic this year. The unusual conditions with regard to the number of ice bergs off shore meant the risks to the safety of the boat and crew were simply too high.
The plan had been to end the journey on a high by rowing up the Bristol Chanel and through the British rivers and canals to arrive in London in time for the start of the Olympics. In true British spirit, this section of the OAR is still going ahead. The OAR Project was always about much more than rowing an ocean. We'll be raising money to buy a fleet of rowing boats for able bodied and disabled young people along the way. To find out more about how you can support the OAR Legacy, click here.
Mos will be living life as if he was at sea during his journey through the British inland waterways . He'll be carrying all his supplies, food and equipment with him and will sleep onboard. Rowing for up to 10 hours each day for two weeks, Mos will be joined by various young people and mystery guests as he makes his way to London.
Saturday 7th July: Depart Clevedon —    8th July: Bristol  —  9th July: Bath  —   10th July: Bradford upon Avon  —   11th July: Caen Locks  —   12th July: Devizes Town  —   13th July: Pewsey  —   14th July: Hungerford  —   15th July: Newbury  —   16th: OPEN ROW DAY  —   17th: Aldermaston  —   18th: Reading  —   19th: Henley  —   20th: Bray Marina  —   21st: Twickenham  —   22d July: OPEN ROW DAY  —   23rd July: Finish at Westminster, London
Get Involved
If you would like to be a part of the OAR journey and accompany Bojangles in your own boat of any shape of size, please contact naomi@oar2012.com for more details.
We'll also be announcing details soon of events planned along the way that you can get involved with.