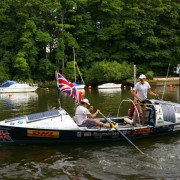 A great day on the water today as the OAR team made their way from Bray Marina (right opposite Dorney Lake, the Olympic Rowing Venue) to Twickenham Yacht Club.
Andrew 'Mos' Morris put in an incredible 11 hours of rowing almost non stop to cover well over 30 miles, our greatest distance to date. And finally a taste of British Summer time!  Lots of day trippers out on the River Thames, plenty of people stopping to ask what on earth we were up to. Credit to the boat at Chertsey Lock who threw across a couple of cold beers when they were told Bojangles had made it all the way from Bristol.
It was gone 7pm by the time Mos made it to Twickenham Yacht Club, where once more we received a warm welcome. Big thanks for the homemade soup and nibbles, sustenance was much appreciated!
The dizzy heights of London town are definitely getting closer.