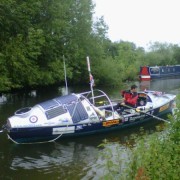 Another day of rain and drizzle for the OAR team on the Kennet and Avon Canal but spirits are high as we're joined by guest rower, Chris Martin.
Chris was one half of the first and only team ever to row across the Pacific Ocean, in none other than Bojangles! Her epic maiden voyage of 7000 miles took no less than 189 days, 10 hours and 22 minutes. Conditions only slightly different to those on the Canal.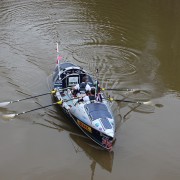 For any aspiring ocean rowers out there, Chris is going to be hosting an open row day along with Mos in Twickenham on Sunday 22nd July. Come and find out what rowing an ocean is like and see whether you'd be up for the challenge. Bojangles will also be available for you to try your hand at the oars. Find out more here.
Running a little behind schedule on the inland waterways after a day caught in the weeds on Saturday, but nothing the mighty pulling power of Mos and Chris can't make up!  Good ground was covered this morning between Kintbury and Newbury. Hitting the water again after a brief stop to refuel the support team, we're aiming to make it to Aldermaston tonight.
Check out the OAR Twitter page for our latest position and do stop by and say hello if you're in the area!