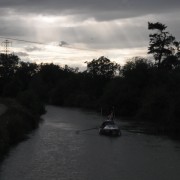 Another wet day on the inland waterways. We started out from Theale, destination Reading. Final day on the Kennet and Avon canal was one of twists and turns and we spent a fair amount of time negotiating reeds, and a few trees…
Once again great support along the way especially as we came into Reading city centre. Thanks to the welcome committee from the Kennet and Avon Canal Trust, who bid us farewell as we entered the River Thames.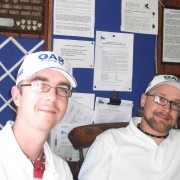 Also great to see the guys from the Amber Foundation back with the support team, the extra pairs of hands have been greatly missed on the locks over the past couple of days.
Next stop, Henley-on-Thames tomorrow. Can't wait to take Bojangles down the historic Regatta course.
Don't forget we're raising money for the Rowing Foundation along the way, to buy boats for young people, getting the next generation of rowers and adventurers out on the water.  To find out more or make a donation click here.
Should have more pictures for you soon, but in the mean time check out our twitter feed, @oatlanticrow.