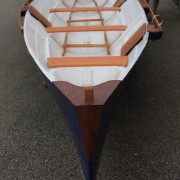 When the OAR team first dreamed up the idea to row Bojangles home to the UK, it was clear that this project was to be about much more than their individual challenge. Andrew "Mos" Morris has always been passionate about working with young people, and the motto of the expedition quickly became 'to inspire the next generation of ocean rowers and adventurers'.
Thanks to the generosity and support of our sponsors and the individuals we told our story to, team OAR has been able to buy a brand new Flashboat for Penryn Rowing Club, allowing them to expand their junior programme.
Phil Starkey from Penryn RC said "It was a pleasure to meet Andrew, and we are so thankful to him and the OAR team for their amazing rowing efforts and for choosing us to receive such a wonderful donation towards a new Flashboat. Many, many thanks. The Flashboat, now registered as Number 3, will be used for training junior members of the club and enabling them to race competitively. We are already taking steps to try and gain more junior members by posting flyers around the local community and are in talks with the local college to arrange a regular event or after school club, where groups of children will be able to come and learn the sport of ocean rowing. Now that we have a much more up to date and comfortable boat, we hope that this will help to encourage youngsters to join the club and stay with the sport."
In the words of Andrew Morris "It's amazing how in this Olympic year, people across the country have been inspired by a new kind of role model and are seeking to take up sport as a result. I hope that we too have played some small part in helping young people get out on the water and broaden their horizons. Our thanks also goes to The Rowing Foundation, who facilitated the OAR fundraising efforts and selected Penryn Rowing Club as a deserving club amongst many seeking to encourage more young people to take up their oars."
The OAR Just Giving Page is still open. If you would like to continue to support the great work of The Rowing Foundation, please click here.